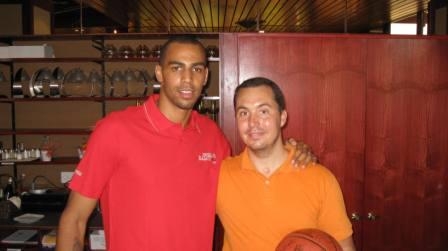 Tristan, sports fan, is a young Genevan university student affected by a brain tumor. On the 18th of August 2011 a basketball match between Switzerland and Cyprus is taking place at the St-Léonard hall in Fribourg and Bernard, Jacques, Jenny, Jérôme and Vincent, members of the association, will accompany Tristan to Fribourg to meet the team and watch the match.
There is an immediate connection between Tristan and his accompaniers and after several kilometers and various discussions, thirst forces us to stop at a roadside restaurant in Gruyère. A refreshment always helps, especially with the current heat.
Once we arrived, we were to meet Philippe Rochetin, team physio, at the Park Hotel. The coach and the team staff are waiting for us. After some conversation in the hotel lobby, we can join the players who are having a pre-game snack.
The players are kind enough to sign a ball and a shit that they offer to Tristan. He can hang out with the players and take photos. It's amazing, everyone is more than available and Tristan was particularly emotional about being next to Thabo Sefolosha (NBA player for the Oklahoma City Thunder!!!) to capture the moment.
After wishing the players and staff an excellent match, we have a snack of our own at the restaurant nearby – Jérôme and Vincent have a fondue and double cream meringues for dessert…in 30-degree weather!
At 8pm, the match begins in front of 2800 fans. Switzerland won… HOP SUISSE. Although it was not a great match, the important thing was for Tristan to have fun and I'm sure that was a success.
I wish to warmly thank all the Swiss basketball team (coach, players and staff) for their kindness and availability.
Bernard